Several months ago on the way to the post office (honest, I did not make any detours), I made 2 curb stops and found this stuff.
Our 18 month old grandson is not quite ready for the bed, but he loved the baseball and basketball games. They are now in our entry hall closet; the toy closet. The bed is in the garage. I need to find a crib mattress for that.
There are 3 drawers behind the t-ball stand. One of those became the
Shoe Shine Kit
.
Do you see that little chair behind the bed. It is so cute. I am not kidding, it was just sitting at the curb waiting for me. That chair was in great shape. The upholstery was even okay, just vinyl and ugly.
Now upholstery is a new endeavor for me. I have recovered chair cushions
but not an entire piece of furniture.
I started looking through my stash of curtain and upholstery fabric
and with my sister's help, decided on the blue stripe.
Just one word of caution before you start a project like this…don't take the chair completely apart unless you really know how to put it back together. I should have taken pictures of each step or just taken it apart a little at a time.
Well, here it is.
I think it is beautiful and I only have a couple of pieces left that I can't figure out. I still need to put on the hinge for the seat, but I couldn't wait to show you.
Someday I may take the time to learn how to take better pictures, but there are only

24 hours in the day

and
I find other things more exciting.
This is where I party: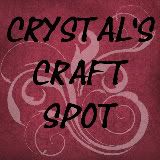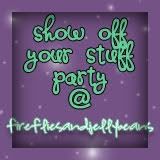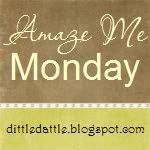 Blog Hops: